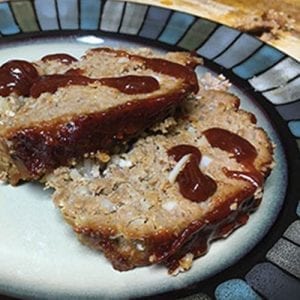 Gourmet Meatloaf
This awesome meatloaf recipe goes perfect with fall weather and family get togethers. Transform classic meatloaf into a gourmet dish with our Prestige® Ground Beef. Everyone will be sure to love it!
Equipment
Large Mixing Bowl

Wooden Spoon

9" x 5" x 3" Loaf Pan

Meat Thermometer
Ingredients
2

cups

"Panko" Bread Crumbs

1

cup

Ketchup

1

cup

Milk

1

medium

Onion

finely chopped

2

cloves

Garlic

finely chopped

1

tbsp

Worcesterhire Sauce
Topping
1

cup

Ketchup

4

tbsp

Brown Sugar

1

tbsp

White Vinegar*
Instructions
Pre-heat Conventional Oven to 350° F. Starting with all ingredients at refrigerator temperature, (37-39° F).

Combine the beef, Panko, eggs, ketchup, milk, onion, and Worcesterhire sauce into a large mixing bowl and mix thoroughly, first with spoon, then with hands, until the "batter" becomes very sticky. The mixing process will "extract proteins" from the meat, which will help to bind all ingredients and give the meatloaf a nice firm and toothsome texture.

Protein is extracted when burger passes the gravity test. Form a cylinder of the blend in hand and hang from one side. If meat blend does not break, you have blended it enough.

Next, press the batter into an un-greased loaf pan and round the top – similar to a loaf of bread. Place in pre-heated 350° F oven for 1 hour – or until the internal temperature of the meat loaf is approximately 150° F.
Topping/Finishing Sauce
Combine ketchup, seasoning, and brown sugar in a bowl and mix vigorously until the sugar is evenly blended into the mixture. Spread approximately 1/2 the mixture to the top of the loaf evenly. *To the remaining topping, add just enough white vinegar (approx. 1 tbsp) to create a medium bodied pour-able consistency and use this as a finishing/dipping sauce.

Place the meatloaf back in the oven and cook until the internal temperature reaches 160° F. Remove from oven, cover with foil, and allow meatloaf to rest for at least 15 minutes. Remove from pan and slice into 1/2" thick slices.