*** HOLIDAY SHIPPING NOTICE ***
We will ship orders as soon as possible. You will receive an order confirmation as soon as your order is placed and tracking via our automated email system as soon as your order ships – if you don't see them in your inbox after placing an order, check your "Junk" "Bulk" etc folder. We expect some shipping delays through the month of December, but at this time, everything is moving on schedule. If you have questions about an order, please email us or give us a call at 308-876-2250.
We ship anywhere in the United States.
We ship FedEx Ground, unless otherwise specified by the customer.
We ship to Alaska and Hawaii but we require 2nd Day Shipping which is a $69.99 up charge.
The map to the right shows transit time from our distribution center to your door.
If you have any questions, please give us a call, we are here to help from 7am – 5pm Central (308) 876-2250.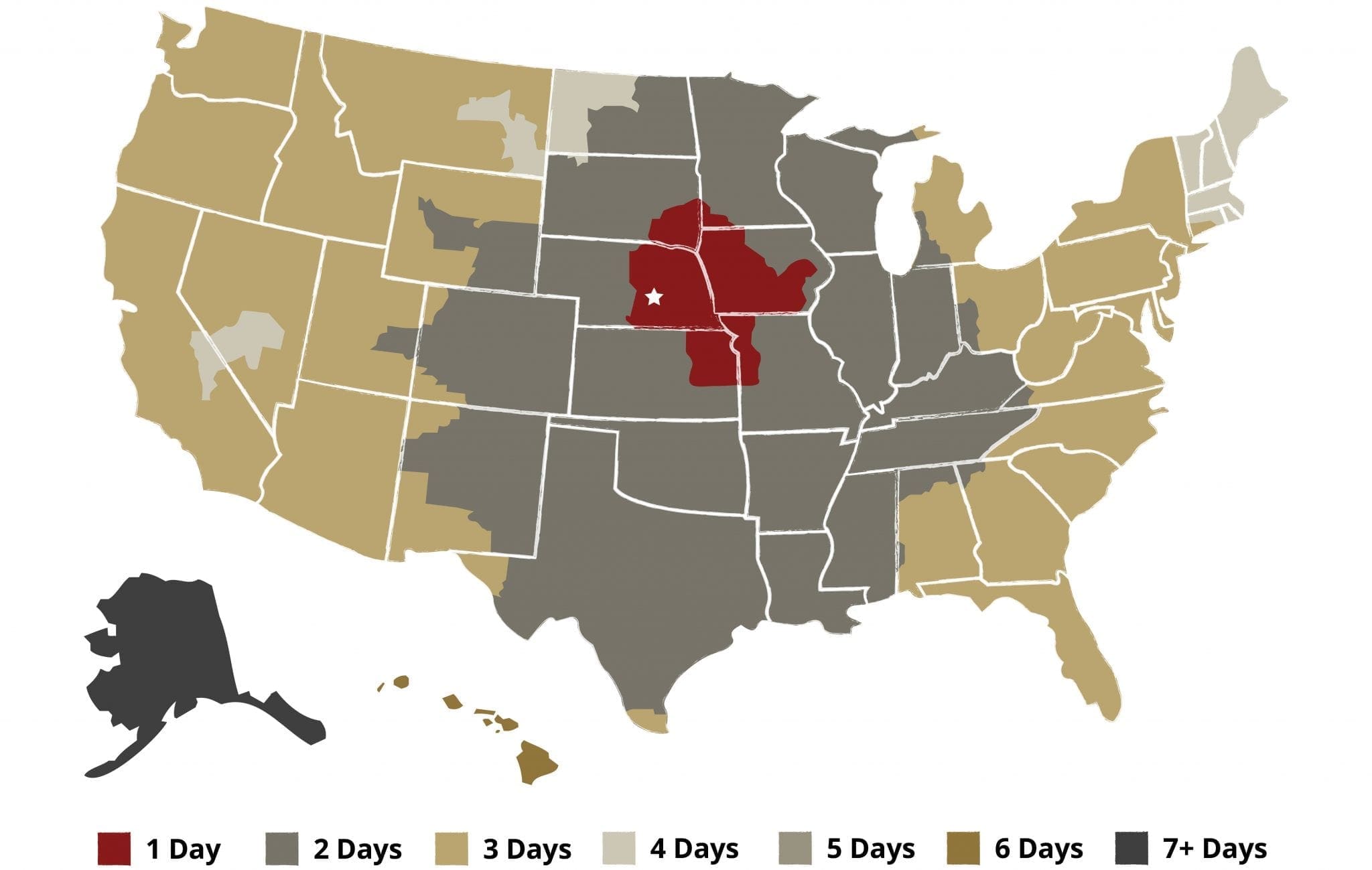 Shipping a frozen, perishable product requires much care and consideration.
At Nebraska Star Beef® we put a great deal of effort into producing the most consistent, premium quality Angus and Wagyu products possible and it is important to us that it arrives in your hands in perfect condition. We ship each order in an insulated Styrofoam cooler, which is packed with dry ice to keep the product in a deep frozen state during the entire shipping process.
The map above will give you an approximate idea of how long it will take for your order to arrive at your location. In locations offering weekend delivery, orders will be shipped Monday thru Friday and be delivered accordingly. Orders shipping to locations that do not offer weekend delivery will be shipped such that they do not have transit time over the weekend. For example, if an order is placed on Thursday and has a 3 day transit, that order will be shipped on the following Monday for delivery the following Thursday. This practice ensures that product does not spoil in transit.
2nd Day Air or Overnight shipping provides an extra margin of safety in the spring and summer months (March through October) for shipments projected to exceed 3 days transit time. During the winter months (November through February) standard shipping works great, to include 4 day transit zones.
All orders placed before Noon (central time) on Thursdays have the option for Overnight shipping and Friday delivery.
We cannot deliver orders outside of the continental United States (lower 48), and cannot deliver to P.O. Boxes or A.P.O./F.P.O. addresses. It is important that you provide a complete street address and telephone number for shipping.
Please contact us with any questions during office ours M-F 8am-4pm CT (308) 876-2250, or email us at info@nebraskastarbeef.com. We appreciate your business and welcome all feedback.