Meatballs are one of the unsung heroes of the ground beef product realm. From sandwiches to pasta dishes, casseroles, soups, even stand alone, center plate entrées, Meatballs can do it all, and then some. Great meatballs all start with great ground beef – like Nebraska Star Beef "Prestige®" or "All Natural" ground beef. From there, most add bread crumbs as a binder and to help hold on to some of the fat, eggs as a binder and protein (and flavor) booster, salt, water, and other finely diced herbs, spices and vegetables. The ever-popular porcupine meatball even uses rice to enhance the experience. In true Nebraska Star Beef® form, we tried to find the bottom of the meatball rabbit hole by incorporating everything from peanut butter to candy bars into meatballs. The results was surprisingly pleasant, especially the meatballs with a "Fun Size" "Snickers®" candy bar inside. The sweet & nutty flavor the Snickers® bar balances very nicely with the savory meatball exterior. If you're into kitchen adventures…this one is worth a shot. We also got out some of our DIY Jerky making seasonings and used it to put a new twist on meatballs. We are pleased to report that it works great! Our last meatball experiment was a large, center-plate style porcupine meatball. We used approx. 8 ounces raw weight for each of the 4 meatballs. To this 2 lb of our basic meatball dough, we added two servings of "Minute Rice" that was cooked, then chilled prior to mixing with the meat dough. The final size was approximately equivalent to a tennis ball. We went with classic "Ketchup" and "BBQ Sauce" top glazes, but these large meatballs would do just as well next to a heap of mashed potatoes & gravy. Don't overlook the classic, "grape jelly glaze". One resounding truth we found with all meatballs is that the savory nature of the meatball needs a little sweet element to really knock them out of the park. Give some of these recipes a try the next time you're thawing out some
ground beef
, you'll be glad you did. The kitchen should be a fun place to hang out!!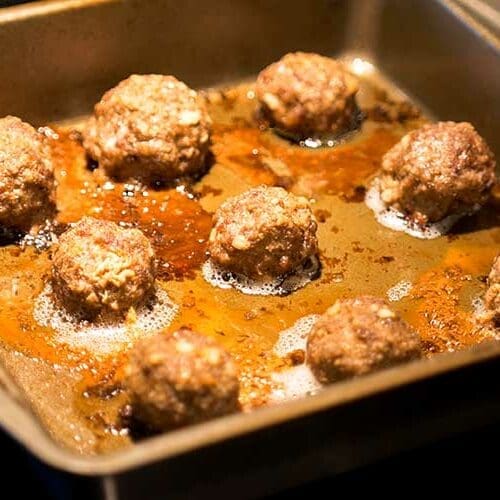 Meatballs
Ingredients
Base Mixture
1.5

cups

Panko Bread Crumbs

2

large

Eggs

1/4

cup

Potatoes

dried, diced

1

tbsp

Garlic

dried, minced

1

tbsp

Onion

dried, minced

1

tbsp

Salt
Instructions
Mix well. Used above as "base" for flavored meatballs.

Pre-heat oven to 350° F. Customize your flavor (ideas below) and bake for 30-45 minutes or until internal temp. reaches 165-180° F.
Peanut Butter Stuffed
Use the base meatball above and add a tsp of peanut butter in the center of each meatball. Optionally, add a grape jelly glaze to the outside.
Snickers® Bar
This is one of those combos that will surprise you. "Base" meatball above wrapped around a snickers bar and cooked, super simple.
Porcupine
Add 1 cup instant rice (cooked first) added to the base meatball blend. Glaze with ketchup or Sweet Baby Ray's BBQ sauce.