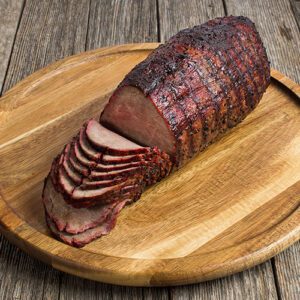 Grilled Round Roast
Last week I had the pleasure of getting some of our new products photographed for the website. One might think, wow Cousin Steve-O, that's a dream job…and one would be right. I like to mix things up a little… The results were worth documenting.
Instructions
First up – basic prep. I wanted to keep this simple, as that's best for photographs, but I also wanted to make something the whole office would enjoy eating, as 6 lbs of roast is more than I can take down myself in a day or two. I went with our NEW Signature® Salt + Pepper blend, and coated both roasts with more than a little, but less than a lot… I don't know how else to describe it; it looked about right to me.

When prepping for seasoning, some folks like to add a "binder" which is basically some type of sauce or neutral oil for the seasoning to stick to… I am personally not a fan of this approach, I want to taste beef, not sauce… The neutral oil can actually keep the seasoning from getting into the meat, so I avoid it as well. The salt will help to pull some moisture out of thee roast and that will help the pepper "stick" to the roast/steak/etc. Some may fall off, it happens, add more if you wish. 

Next step – searing. I am pretty lucky to have two nice grills to work with at the office and two grills that are as different as these are, they both really lend themselves to certain tasks. I got the gas infrared grill ripping hot, then put the roast on it, I turned the roast as each contact point seared to a nice golden brown with dark grill marks. The smell was amazing during this process. Part of me wanted to just keep this up until I hit an internal temp of 115° F and call it a day, but alas, many folks do not appreciate pictures of beef that is cooked to a lesser degree than they like and conversely, folks who prefer beef cooked rare seem to be more understanding and tolerant of the "it's too rare" mob. I digress. The sear took approximately 10 minutes on the 4 lb roast and probably half that on the 2 lb round roast – I treated the 2 lb roast just like a big steak on the sear. I used the same seasoning on both the 4 lb roast and the 2 lb roast, our NEW Signature® Salt + Pepper.

Next up – roasting. This part is easy. I set the pellet grill to to "Medium" which is about 300° F on the grill thermometer and let both roasts hang out until they hit an internal temp of 145° F. The key here, and as many times as I harp on this, customers still always ask…"how long did you cook it?" My answer is always the same… "I cooked it until it reached my desired internal temperature – 145° F". Time is irrelevant, temperature is the only thing that matters if you're looking for the best result.

Finally – resting. It's as easy as roasting, and every bit as important. Resting after roasting is critical to making the best possible roast. It allows the roast to "relax" allowing the roasts and other larger cuts to set for at least 30 minutes in an insulated box – oven, microwave, a cooler, etc, etc – will allow the heat to disperse evenly and the roast to relax and become as tender as possible. Slicing & serving…. I recommend slicing as thin as possible, but when it's all said and done, do what makes you happy.