Once upon a time there was a hungry boy and 3 lbs of ground beef…
CHAPTER 1 – TROPIC THUNDER
Pineapple, Plantain, Peanut Butter burger with BRCC Battle Squatch coffee Dry Rub…and you think saying it is a mouthful…. This burger is best built when there is a party to feed, as it takes a bit of planning and ingredient building before the burger is ready for assembly.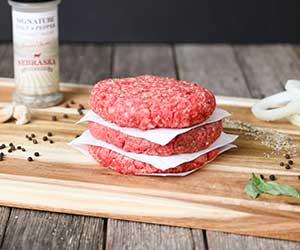 Get the party started!! To get things rolling, you going to have to make a bunch of Tostones. Never heard of a tostone?? We'll they'll be your new favorite side dish… Slice the plantains into approx. 1.5" thick pieces and fry them top and bottom in about 1/4" of lard in a cast iron skillet. Remove from skillet when both ends are golden brown, place them one at a time, between two sheets of wax paper and smash them with something flat. They should end up up thin, but not too thin, as once smashed you will fry them a second time in the same lard. When fried to just sort of golden brown and still soft in the center, pull them to drip rack or paper towels, salt and rest. Snack on a few while making the burgers.
Now that you have your tostones knocked out, it's time for the pineapple. Skin and core the pineapple however you like to skin and core a pineapple. I use a knife and a "Tin Cup" stainless steel shot glass after I've sliced the pineapple. For this burger, cut the slices between approximately 3/8" thick, then grill them. Why grill them? Because grilling them concentrates the flavor, acidity and sweetness and will help to balance the the coffee dry rub.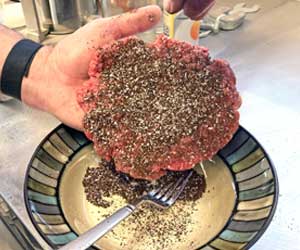 The meat – the heart and soul of any great burger – we went with 8oz (yes, half a pound) of our Prestige® 80/20 ground beef. Make the patty big around and not too thick…1/2 – 5/8" thick is about right, and it should be at least 6" in diameter. It's going to shrink a bit, and a proper burger should be a little bigger than the bun. After all, the patty is the star of the show…
Dry rub. Coffee has been used for ages in these parts as a seasoning, we figured why not use some really, really good coffee on this burger. So we did. Black Rifle Coffee Company is one of our best beef stick customers…and I have a monthly subscription to their "ECS" (Exclusive Coffee Subscription) so we whipped up a "Battle Squatch Dry Rub" which was a mixture of fine ground coffee beans and some salt.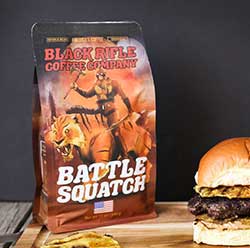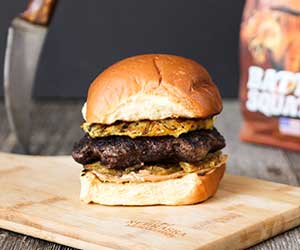 Peanut Butter – JIF Creamy. What else??
Last, but not least…the bun. Because buns matter. Sticking with our theme of south of the border sweet meets savory ground beef, we went with a sweet Hawaiian Roll for the bun. Lightly toasted, then the bottom bun smeared with JIF, add a little more grilled pineapple than you think you ought to, then the patty, a tostone or two and finally the top bun and ENJOY!!
CHAPTER 2 –

 

THE SPICY LATINA
The next burger is the love child of a fajita and an all American half pound burger. The results are a spicy burger whose traditional roots run deep. A beautiful disaster….
Start with some Julianne sliced bell peppers and onion, add in some garlic and tomatillos and sauté just like you would for traditional fajitas.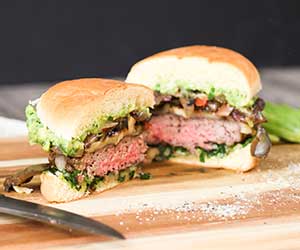 Cheese is what holds this crazy girl together…we went with a custom made cheese called "Pico De Queso" cheddar cheese and it was the right decision. Took a little extra heat to get it melted and just enough spice that it's interesting, but not so much that it hurts. Just like it ought to be…
Guac…what would any fajita, or Mexican dish in general, be without guacamole?? My guac recipe is simple – 5 Avocados, 1 onion, 1 lime – juiced, a handle of cilantro chopped with the onion, and salt to taste. Smear this generously on the bottom bun, and serve as a side with tortilla chips.
The patty is 8oz of Prestige® 80/20 ground beef, hand pattied into a nice, thick 5"-ish diameter patty, season with Nebraska Star Beef® Signature® Salt + Pepper, then grill to an internal temperature of 145° F. This yields a nice, thick, tender, juicy, delicious patty that will be right at home with the south of the border dressing.
The bun…go simple. Standard 4" Rotella or Ball Park bun, toasted and call it a day. Make sure some hot sauce is available incase guests want to heat things up.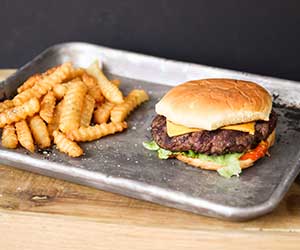 CHAPTER 3 – THE AMERICAN DAD
This burger is OGAF. My kids refer to it as the 100+ as in, better than getting a 100 on an assignment. The only extra requirement for this burger is to grill it with a polo tucked into khaki pants and New Balance running shoes….
The patty…this one can vary a little depending on the audience. If you're grilling for a bunch of neighborhood brats, you can knock the patty down to 4oz (1/4 pound) and they'll still feel special, but make sure you're kids get at least a 1/3rd lb (5.3oz) patty…any of the cool parents that are helping out… go with the 8oz patty; let them know that you're an American Dad.
Season with Nebraska Star Beef® Signature® Salt + Pepper and grill to an internal temp of 145° F. Place a slice of American cheese on the patty when it hits about 140° F.
Buns – Rotella is the appropriate bun to use for this burger, but a standard Ball Park – or similar – bun will do. The important thing is to toast the bun lightly on the grill prior to assembly. 
Once the bun is toasted, the top bun goes on top of the patty with cheese, hit the bottom with a little ketchup and mustard and stack the patty, cheese and top bun onto the bottom bun.
Leave some chopped onions and dill pickles in a bowl near the grill so those inclined can add them to the burger wherever they please.
Simple perfection.
CHAPTER 4 – STICKY SWEET
When you do beef for a living, you spend a lot of time trying to make things new or find a little shred of magic to make things interesting. This burger is a strange combination of sweet, savory, hearty, tough and tender…it's all mixed up, but DAMN it's good…
When you think of Brie cheese, you probably think of the holidays an maybe some jam or crackers and honey or even fresh fruit…and those things are great with brie.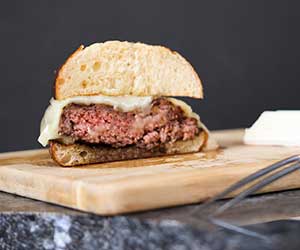 Brie is also right at home on a big, fat 8oz ground beef patty. Don't believe us? We DARE you to try this. DOUBLE DOG DARE you… and if it's not your new favorite burger, your taste buds ain't right.
The build. With this burger, the bun really matters. It's important to get a bun that substantial enough to be soaked in honey and a juicy patty. We went with a "pretzel bun" but I suspect that a ciabatta bun would also work great. The bun shouldn't have so much flavor that it takes away from the delicate taste of the brie. The pretzel bun was a fantastic choice.
The patty…roll with at least 1/3rd lb, and preferably 1/2lb and grill to an internal temp of 145° F and pull from heat. While resting, add a PILE of brie to the patty and let them hang out and get to know each other. Brie melts like my heart around puppies, so keep an eye on it. While the brie and the patty are getting to know one another, toast the bun. Toast it to warm and crispy, definitely not burned to a crisp – brie has a really delicate flavor profile. Coat the bottom bun with honey, preferably local honey and not the cheap stuff from the store – and don't be shy. Load the patty with he melty brie onto the bottom bun and pour more honey over the brie and put the top bun on before it all runs off…you might want to serve this one with a knife and fork…at minimum, have some paper towels on hand because it's gonna get messy and you don't want a guest to have to wipe honey on the table cloth. 
With this burger, you don't really need to have a separate dessert, but you can if you want to…and if you're going to, why not a big, dumb slice of New York Style Cheesecake…leave the honey on the table incase guests want to put it on the cheesecake… 
You're welcome.
The End.