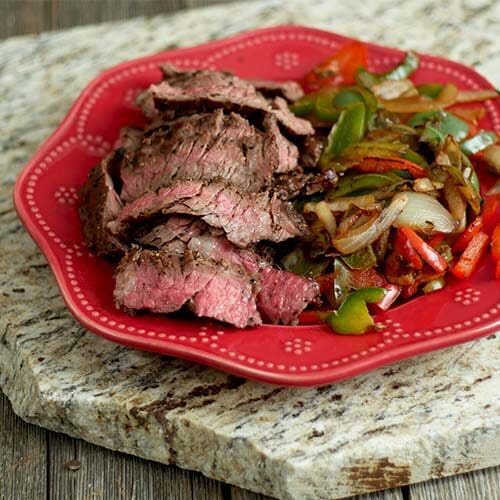 Shawna's Steak Fajitas
Fajitas are a great way to implement Nebraska Star Beef® skirt or flank steak into a meal. Fajitas are a meal that everyone here at the farm can agree on, and they are portable enough if the guys are really busy they can do a "fly by" and grab a quick bite. The Signature® Salt + Pepper is the perfect base seasoning as it gives the beef a great flavor and pairs up nicely with any of the wide variety of hot sauces the guys keep around. 
Equipment
Cast Iron Skillet

Grill
Ingredients
Guacamole
6

Avocados

remove skin and seeds

1

medium

White Onion

chopped

Cilantro

chopped

1

Lime

juiced

Salt

to taste
Onion + Cilantro
2

medium

White Onions

chopped

Cilantro

chopped

4 or 5

Limes

cut into wedges and serve with onion & cilantro
Tortillas
2.5

cups

Masa Flour

1.5

cups

Water

1

tsp

Kosher Salt
Favorite Toppings + Sides
Sour Cream

Diced Tomatoes

Taco Bell Sauce Packets

Shredded "Mexican blend" Cheese

Shredded Lettuce

Refried Beans

Mexican Rice
Instructions
Steak
Season the skirt and/or flank steak with your favorite seasoning. We chose Signature® Salt + Pepper seasoning. Grill until internal temperature reaches 120° F for rare. Rest 5-10 minutes. Bias slice thin across grain just before serving.
Peppers + Onions
Cook DRY in hot cast iron skillet (sautéing in butter/oil will make sloppy fajitas).
Onion + Cilantro
Mix together and serve with lime wedges.
Guacamole
Add prepped ingredients to mixing bowl and mash with potato masher.
Tortillas
Mix until incorporated, use tortilla press to make 1.5" diameter balls flat and cook on hot griddle until both sides have begun to caramelize.

Or buy flour tortillas, or corn if you prefer. Warm tortillas in cast iron skillet – still dry – and place in tortilla basked when cooked.

Serve with a variety of hot sauces.
Shawna's Fajita Assembly
Top a tortilla with steak and the sautéed peppers and onion. Add dollops of sour cream and guacamole with a handful of shredded cheese and enjoy!