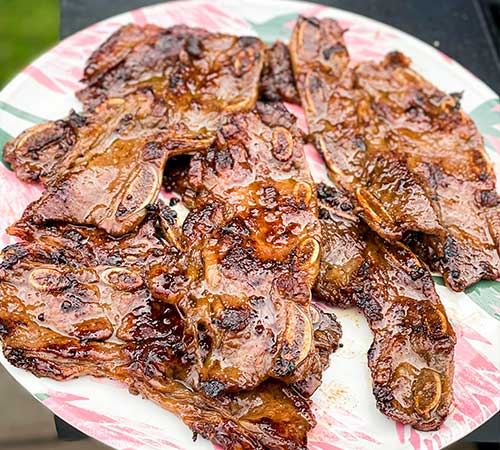 Jordan's Asian Style Short Ribs
Equipment
Grill

Blackstone Griddle

Cast Iron Skillet

Ziploc Bag or Tupperware

Mixing Bowl or Measuring Cup
Ingredients
3/4

cup

Low Sodium Soy Sauce

1/3

cup

Brown Sugar

add more to make it sweeter

2

tbsp

Sesame Oil

1

tbsp

Sriracha

add more to make it spicy

3

tbsp

Garlic

minced

1

tbsp

Hoisin Sauce

optional
Instructions
Put the Short Ribs in a Ziploc bag.

(Optional) Heat a drizzle of oil in a large pan over medium heat. Add onion and cook, stirring, until softened, 4-5 minutes.

Mix Soy Sauce, Brown Sugar, Seasame Oil, Siracha, Minced Garlic, Hoisin Sauce in a bowl…this will be the marinade for the short ribs.

Pour mixture over the short ribs and thoroughly mix the mixture into the ribs.  Let it marinate for 30 mins – 24 hours however long you want the ribs to sit in the mixture.

Pre-heat grill to medium high.

Put ribs on grill for 4-5 mins per side or until you get a caramelization on both sides!

Pull Ribs off the grill and ready to serve!