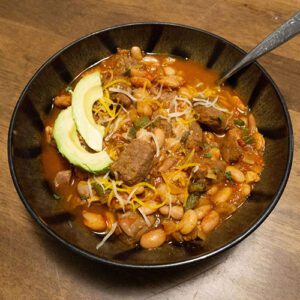 Harvest Chili
Harvest Chili is a great way to use up all those fresh garden vegetables! This simple chili recipe is a healthy family meal that is perfect for a brisk fall day!
Equipment
Earthenware or Enamel Coated Stock Pot or Dutch Oven with Lid

Medium-sized Bowl

Strainer
Ingredients
2

lbs

Loin Tips

2

cups

Dry Pinto Beans

4-6

large

Tomatoes

(ripe), cut into 1/8ths

2

large

Anaheim Peppers

coarsely chopped

2

large

Onions

coarsely chopped

1/8

cup

Chili Powder

4-6

cloves

Garlic

1

tbsp

Kosher Salt

1

tsp

Black Pepper

1

12oz can

Coke
Instructions
Soak beans in warm water for 30 min to 1 hour and strain.

*Pre-heat Conventional Oven to 250° F

**Make sure that your chosen pot will fit in the conventional oven.

Combine into stock pot: cubed tomatoes, chopped Anaheim pepper, chopped white onions, fine chopped garlic, chili powder, can of Coke, Kosher salt, pepper and pinto beans. Bring to rolling boil. Do not add water. There is a large amount of water in the tomatoes and onions which will become "available" as the mixture heats.

The Coke adds water, sugar, and acidic element.

While bringing the base up to a boil, preheat a cast iron – or stainless steel – skillet to medium-high heat.

Open and drain one 2lb package of Nebraska Star Beef Loin Tips. Season them to taste with fresh ground black pepper and kosher salt or try our Signature® Seasoning.

Add 3-4 Tablespoons of extra virgin olive oil to the pan, immediately followed by the seasoned loin tips. The goal is to only sear the loin tips, they should not be thoroughly cooked in this process. The internal temp of the loin tips should be between 120 and 130° F when finished (rare to medium rare.)

Add the loin tips to the chili base and bring the mixture to a rolling boil, over medium-low heat, stirring occasionally. Hold the rolling boil for 10 to 30 minutes.

Put lid on stock pot and place in 250° F oven until the beans have reached the desired tenderness. – generally 2 to 3 hours, but don't hesitate to check every so often.

Oven finishing the chili allows the ingredients to cook together much more efficiently than if they were just placed on a burner. Using freshly harvested garden ingredients will amplify all of the flavors so that very little additional salt or seasoning will be needed.

*For additional flavor add more chili powder or for an even spicier chili, add a habanero pepper.