The main difference between "Chili" which is actually a stew…and "Chili Soup" that some folks favor is a little more marked difference that just adding water… I typically default to the "normal" chili as I learned how to make it back in the late 1980's with "Carroll Shelby's Custom Chili Kit" and that's just what I've grown to enjoy the most. Other members of my family prefer "Chili Soup" so in the name of making people happy, I came up with a chili soup recipe that I can tolerate…when I have to…
When it comes to any good soup, the broth is everything. Any good soup should also have easily identifiable ingredients. Traditional chili flavor is heavy on the cumin and chili powder more than "beefy" so we are going to cook all of the ingredients prior to blending them in to a fairly light beef/tomato broth. Then, we'll let that simmer gently and it will be a soup that very strongly resembles chili, except for the consistency…which will be…soupy… 😉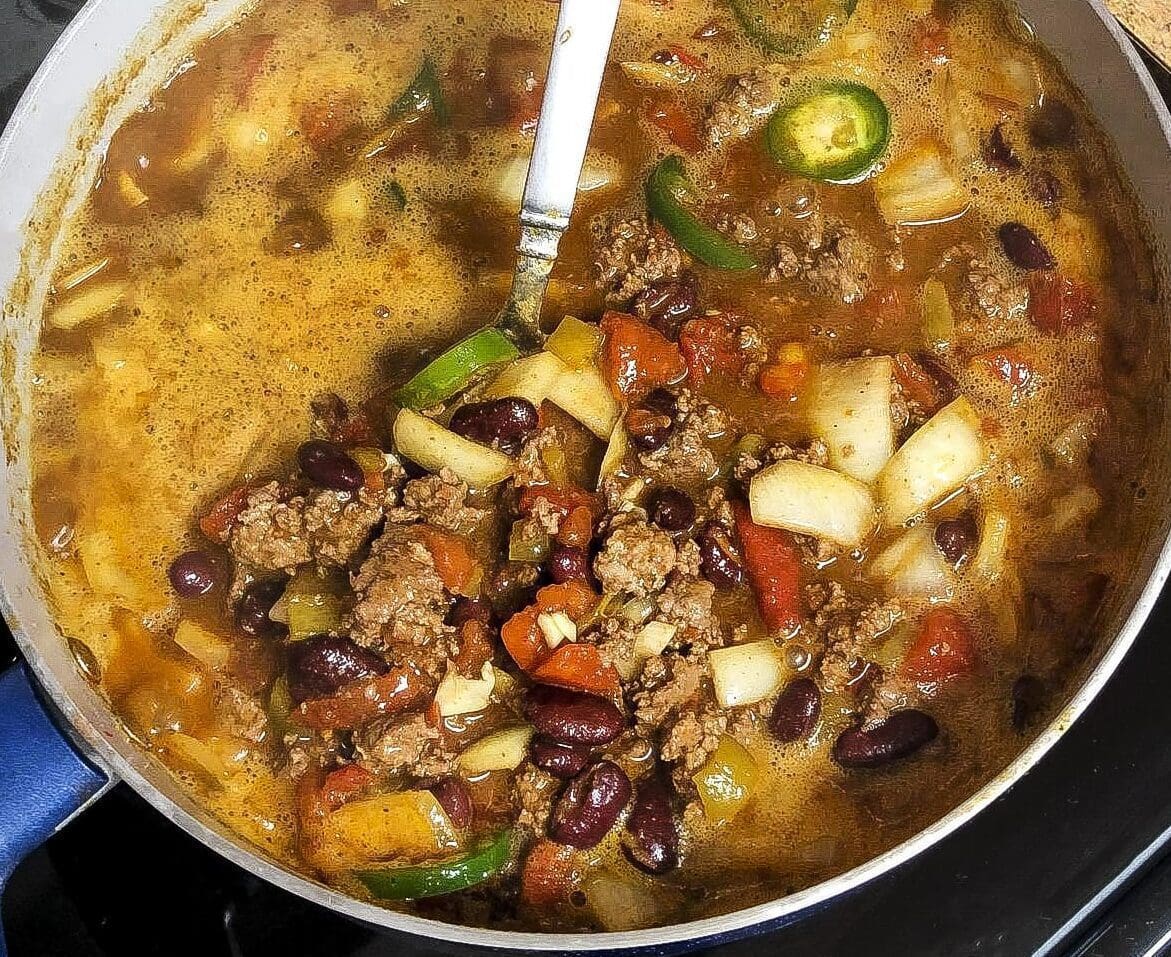 Chili Soup
Other members of my family prefer "Chili Soup" so in the name of making people happy, I came up with a chili soup recipe that I can tolerate…when I have to…
Equipment
Large Mixing Bowl

1 Gallon Ziplock Bag

Large Skillet

Large Stock Pot
Ingredients
2

lbs

Ground Beef or Loin Tips

4-6

cups

Beef Broth

1

cup

Dry Beans

(pinto, black, kidney, or navy)

1

cup

Tomato Juice

2

large

Tomatoes

diced

1

large

Onion

diced

2

large

Anaheim Peppers

chopped

1

head

Garlic

peeled and chopped

1-2

Jalapeno or Habanero Peppers, chopped

(if desired)

4

tbsp

Chili Powder

2

tbsp

Crisco or Butter

1

tbsp

Cumin

Salt

(to taste)
Instructions
Starting one day prior to most of the cooking, soak a cup of your favorite bean, Pinto for me, in enough cold water to fully submerge the beans. Let them soak at least overnight.

Next, chop all of the other vegetable ingredients and put them in a large mixing bowl and add the beef. Add the chili powder and cumin and mix thoroughly.

Cover mixture and place in the refrigerator overnight – a 1 gallon ziplock bag works great too. This will infuse the chili and cumin flavors from into the meat and vegetables.
Flash forward to the next day. Chili Soup day.
Pre-heat a skillet and add the crisco and/or butter.

Sauté the ingredients that were marinating lightly, until the vegetables are translucent and the beef is mostly cooked. (The beef will finish cooking in the soup).

All ingredients should still be easily identifiable. Remove them from heat.

In a large stock pot, combine the beef broth and tomato juice and soaked beans and bring to simmer. Add in the ingredients from the sauce pan and continue to simmer for 30 minutes.

Salt to taste. Serve and enjoy!